Clay Shoot Fundraiser
August 05, 2016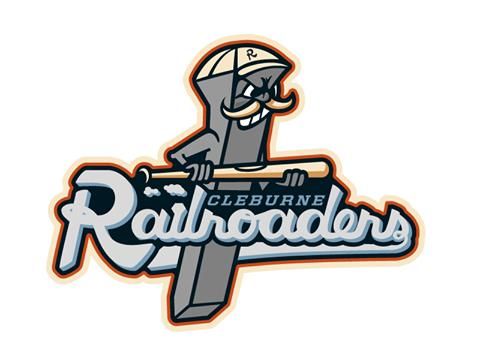 We are super excited to have former major league pitcher, Tim Crabtree, who will be joining a team from the Cleburne Railroaders for our clay shoot!
---
---
Cleburne Lions Club
July 27, 2016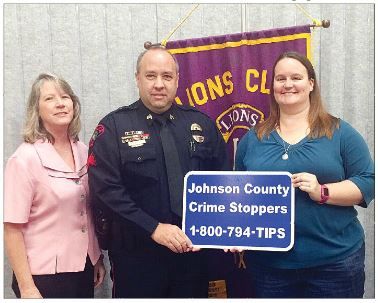 Keene Police Department Detective Chip Krieger, law enforcement coordinator for the Johnson County Crime Stoppers, spoke about the program during the Cleburne Lions Club meeting.


---
---
Texas Crime Stoppers 35th Anniversary
June 08, 2016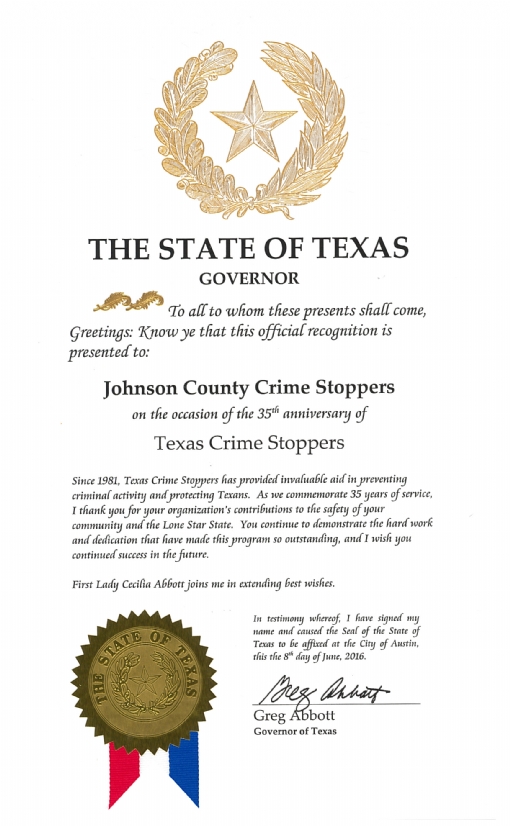 ---
---
2nd Annual Clay Shoot Fundraiser
May 09, 2016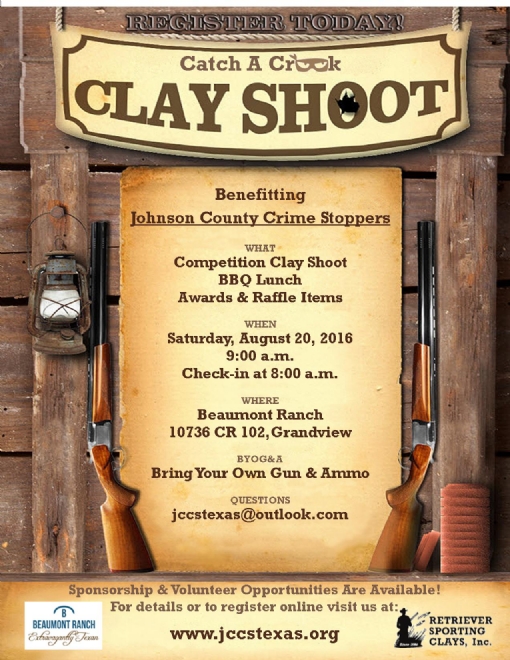 ---
---
Springfest
April 30, 2016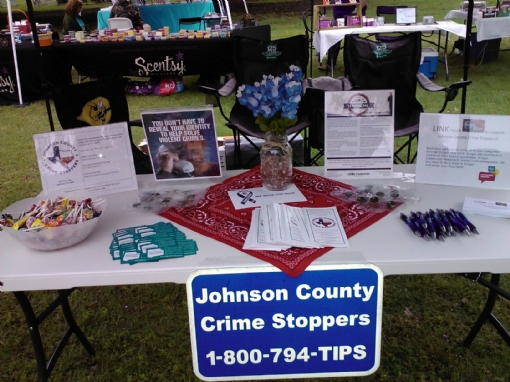 Crime Stoppers out in the community during Springfest at Hulen Park in Cleburne on Saturday, April 30th. We always need volunteers to help law enforcement with crime fighting tips!


---
---
National Prescription Drug Take-Back Day
April 30, 2016
NEWS RELEASE
JOSHUA, BURLESON, AND CLEBURNE POLICE DEPARTMENTS
TAKING BACK UNWANTED PRESCRIPTION DRUGS

April 30, 2016
On April 30 from 10 a.m. to 2 p.m. Joshua, Burleson, Cleburne Police Departments and the Drug Enforcement Administration (DEA) will give the public its 11th opportunity in six years to prevent pill abuse and theft by ridding their homes of potentially dangerous expired, unused, and unwanted prescription drugs. Bring your pills for disposal to the sites listed below for disposal. (The DEA cannot accept liquids or needles or sharps, only pills or patches.) The service is free and anonymous, no questions asked.
Last September, Americans turned in 350 tons (over 702,000 pounds) of prescription drugs at more than 5,000 sites operated by the DEA and more than 3,800 of its state and local law enforcement partners. Overall, in its 10 previous Take Back events, DEA and its partners have taken in over 5.5 million pounds—more than 2,750 tons—of pills.
This initiative addresses a vital public safety and public health issue. Medicines that languish in home cabinets are highly susceptible to diversion, misuse, and abuse. Rates of prescription drug abuse in the U.S. are alarmingly high, as are the number of accidental poisonings and overdoses due to these drugs. Studies show that a majority of abused prescription drugs are obtained from family and friends, including from the home medicine cabinet. In addition, Americans are now advised that their usual methods for disposing of unused medicines—flushing them down the toilet or throwing them in the trash—both pose potential safety and health hazards.
For more information about the disposal of prescription drugs or about the April 30 Take Back Day event, go to the http://www.deadiversion.usdoj.gov/drug_disposal/takeback/

Joshua Police Department - YMCA - 1009 Joshua Station Blvd

Burleson Police Department - 1161 SW Wilshire Blvd

Cleburne Police Department - Kroger Parking Lot - 1617 W. Henderson


---
---
National Child Abuse Prevention Month
April 01, 2016
April is National Child Abuse Prevention Month

National Child Abuse Prevention Month is a time to acknowledge the importance of families and communities working together to prevent child abuse and neglect, and to promote the social and emotional well-being of children and families. During the month of April and throughout the year, communities are encouraged to share child abuse and neglect prevention awareness strategies and activities and promote prevention across the country. In recognition of the 40th anniversary of the Child Abuse Prevention and Treatment Act, we have designed a historical timeline of significant moments in child abuse prevention in the United States.


---
---
Crime Stoppers Month
January 14, 2016
January is Crime Stoppers Month

On Monday, January 11, 2016, Honorable Judge Roger Harmon of Johnson County and the Commissioners of the four precincts recognized this month as "Crime Stoppers Month". Volunteers and board members of Crime Stoppers were in attendance to receive the proclamation.

In 2015, Johnson County Crime Stoppers received 158 anonymous tips. A total of 6 adult fugitives were captured and $100,524 worth of drugs confiscated. Fourteen tips were received reporting drugs or weapons on middle or high school campuses in Johnson County. The anonymous tipsters received payout rewards totaling $4,450.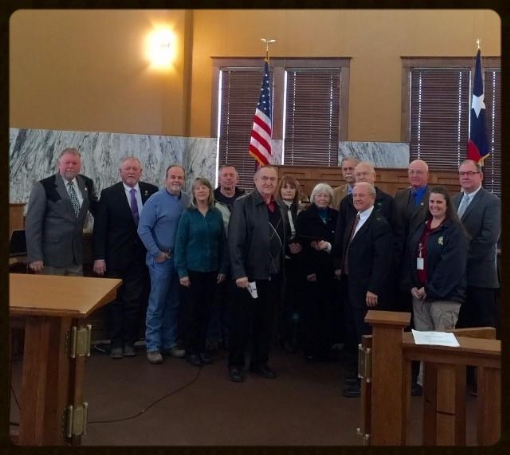 Click here to view the Proclamation
---
---
Keeping Our Children Safe Online
October 12, 2015
On Tuesday, October 27th @ 6:30 p.m., Cleburne PD will host a meeting on what to look for and how to proactively help prevent or deter potentially harmful activity online. The goal is to educate parents about what lurks on the Internet. This meeting is for PARENTS AND ADULTS ONLY. Please share this information with anyone you think may be interested. Click on the flyer link below for additional details.
---
---
Domestic Violence Awareness Month
October 05, 2015
October is National Domestic Violence Awareness Month. Domestic violence affects people of all backgrounds and ages. If you are a victim of domestic violence, call the National Domestic Violence Hotline at 1-800-787-3224.
If you're interested in raising awareness, there are several ways to get involved.

---
---
Clay Shoot Fundraiser
October 03, 2015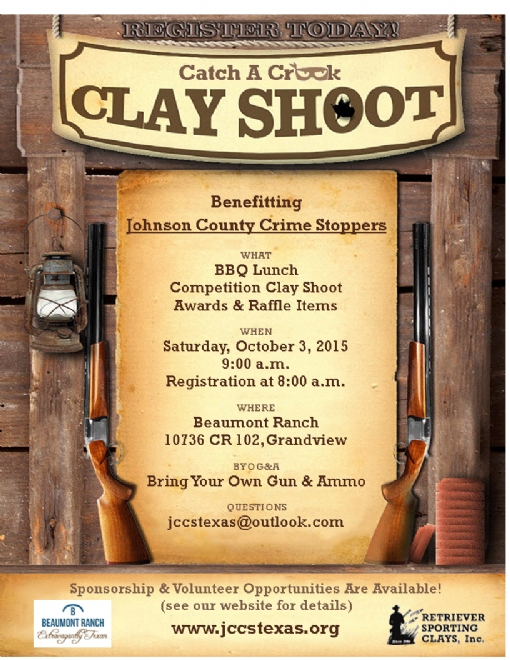 ---
---
Gov Greg Abbott Issues Proclamation For Law Enforcement Officers
September 19, 2015
---
---
Pioneers & Old Settlers Parade Registration
September 09, 2015
Members from Crime Stoppers assist at the registration of parade entries during the Johnson County Pioneers and Old Settlers Reunion in Alvarado.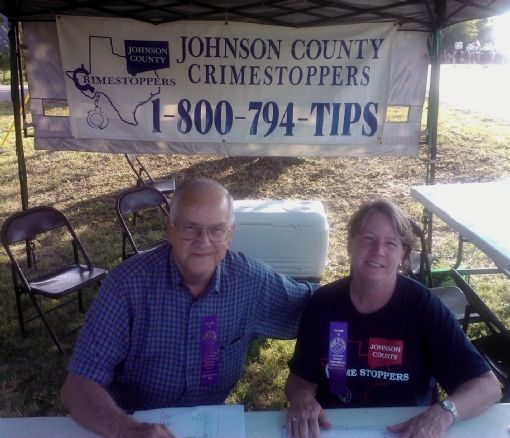 ---
---
Don't Be A Bully Month
August 05, 2015
August is Don't Be A Bully Month
What is bullying?
At first glance, it might appear that this behavior is easy to define. A common image of bullying might be of a physically intimidating boy beating up a smaller classmate or of one child shoving another inside a hallway locker. While that is still considered bullying, it's important to know that bullying behaviors can be much more complex and varied than historical stereotypes.

Did you know:
Bullying can, not only, impact a child's safety, but also their academic success, physical well-being and mental health.

The effects of bullying can be short-term and/or long-term and can include; decreases in grades, loss of concentration, depression and anxiety, post-traumatic stress, low self-esteem and physical ailments.

Bullying behavior can be physical an ddirect, or can be emotional and social.

Social media has opened up a new platform for bullying behavior and online bullying is harder to escape.


http://www.pacer.org/bullying/resources/info-facts.asp
How you can help:
Step in and stand up, The Bullying Prevention Center says that nearly 60% of bullying situations end when a peer intervenes.

Educate yourself and others on prevention behavior.

Be supportive, listen and let the victims know you care.

OPEN THE DIALOGUE! Ask others to stand against bullying.


pacerkidsagainstbullying.org
This information and more can be found on the National Bullying Prevention Center

website

.


---
---
Vehicle Theft Prevention Month
July 01, 2015
July is Vehicle Theft Prevention Month
Did you know:
The top two months for vehicle thefts are July and August.
The state of Texas is #3 of the top 10 states with the most stolen vehicles.
Nearly 45% of stolen vehicles are never recovered.

Some reminders for car theft prevention:
Take your keys; never leave your keys in your vehicle
Never leave valuables in your vehicle, especially in plain sight.
Close and lock all windows and doors when you park.
Park in well-lit areas- in a garage, if possible.
---
---
Legislative Day
February 23, 2015
Crime Stoppers Legislative Day
Crime Stoppers Legislative Day was a huge success thanks to the many dedicated volunteers from 16 different programs who participated, including volunteers from Johnson County Crime Stoppers. Representative Joe Pickett of El Paso, a former board member of the El Paso Crime Stoppers, and Senator Joan Huffman of Houston, Vice Chair of the Senate Committee on Criminal Justice, each sponsored a resolution on behalf of Crime Stoppers. Attendees heard from various speakers, including Representative Pickett, and visited their legislator offices to spread awareness of the impact Crime Stoppers has on local communities. See the House Resolution here and the Senate Resolution here.


---
---
Crime Stoppers Month
January 12, 2015
January is Crime Stoppers Month!
AUSTIN, Texas — In what will be one of the governor's final proclamations in office, Texas Governor Rick Perry issued a proclamation today, January 12, 2015, declaring the month of January as "Crime Stoppers Month" in the state of Texas.
---
---
30th Anniversary
September 24, 2013
---